Spaghetti Mat is our classic solution for custom large surfaces and when slip-resistance is necessary. The non-directional pattern allows for multi-directional scraping ability. Economical mat for outdoor applications. As a scraper, Spaghetti Mat will help keep most of the debris and dirt outside the building.
SBR rubber blend made to withstand any outside weather
Oil, grease and chemical resistant
Oval rubber nubs increase overall scraping ability

COLORS  Brown, Gray, Black 
Berber Point Mats are one of the highest quality logo mats, well suited for highly trafficked areas. The dense high/low hobnail surface pattern on these mats work hard to scrape shoes and remove dirt, debris, and moisture.
Designs are produced in razor sharp clarity and detail
Heavy duty beveled border is applied to all sides
Ideal for high-traffic, indoor / outdoor areas
Mat-A-Dor is a premium product mat that resists common acids, alkalis and salt reducing degradation of the mat. A durable scraper mat that will capture the majority of dirt from the soles of shoes keeping the inside of your building clean and attractive.
Remains flexible and maintains performance in the coldest temperatures
Contains 50% more "fingers" than standard fingertip mats, for outstanding scraping action
Beveled edge reservoir retains up to 4 liters of liquid per square meter
Jasper is an effective scraper mat that removes wet and dry soils from medium traffic areas.
For outdoor/indoor entrance and lobby with medium traffic
Cut pile mat made of strong nylon scraping fibers
Slim profile facilitates the opening of doors
2 attractive colors that fits most decors
Easy to clean, use a wet and dry vacuum and/or shake off
The unique design will outlast standard scraping mats.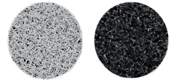 COLORS  Gray, Black
Fore-Runner is a medium traffic scraper stops dirt and soils at the door preventing debris from traveling into the premises. It can be used for indoor and outdoor applications and will capture dirt from the soles of shoes. The Thermo-Flex vinyl backing offers superior floor protection while the polypropylene ribbon yarn's loop pile construction allows for scraping ability.
Attractive two-tone colors
Polypropylene ribbon yarn in a loop pile construction.
Non-absorbent abrasive surface scrapes soil and debris from footwear
Thermo-Flex vinyl backing offers superior floor protection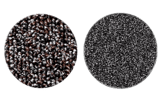 COLORS 
Brown, Gray
Crown-Tred enhances the exterior appearance of your building while providing increased scraping benefits. This outdoor mat is resistant to all types of weather conditions and is designed to last. The low-profile design facilitates the easy opening of doors.
SBR rubber blend made to withstand any outside weather
Oil, grease and chemical resistant
Oval rubber nubs increase overall scraping ability